24 colors oil pastel set
These artists' pastels have outstanding warmth and color strength. They are extremely soft and blendable and the colors can be used direct, built up in colored layers, blended with a cloth, or diluted with mineral spirits to create rich, transparent washes. They can also be used in combination with other dry or wet media to produce myriad effects. Made with pure pigments for overall excellent lightfastness.
Specifications
24 colors oil pastel set:
1.Bright and wide range of colors
2.Extremely smooth and easy to apply
3.Good color-mixing
Chinjoo Oil pastel
Mixing of colors is possible and it is perfect for overlaying

Water resistant

Various techniques including stenciling and scratching
1. Main ingredients: microcrystal wax, mixed oil, calcium carbonate and pigment.
2. The features of products:
A. Safe, healthy, environment-friendly and non-toxic; conforms to ASTMD-4236 and EN71-3; -9
B. Smooth flow and texture
C. Easy to color, refine without dregs, strong sticks and strong fracture resistance
D. Ideal for mixing colors, sketching and creating design
E. Bright and never-shaded colors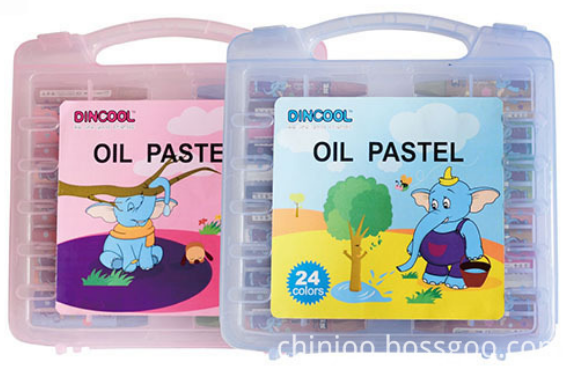 Produktgruppe : Kunst für Kinder > Öl-Pastell